The Kingshay Shop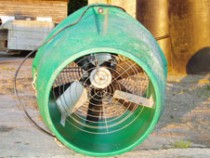 Heat Stress Farming Note
Heat stress in dairy cows can occur at temperatures of 22oC and above. A cow's digestive process creates a lot of heat energy (1.4 kW/day of heat for a cow producing 30 litres/day) which needs to be removed from the body, however their ability to lose heat by sweating is very poor. Heat stress can have several negative effects, including an increase in abortions and a decrease in milk yield and fertility rates.
This Farming Note covers:
Symptoms of heat stress
Minimising risk of heat stress
Ration modifications for hot weather
Issued July 2007.
About Kingshay Farming Notes
Since 1991 Kingshay has been publishing Farming Notes on issues critical to the success of a modern dairy farm business. These briefings provide dairy farmers, large animal vets, farm consultants and other interested parties with the most important and timely information in a concise two-page format. The information contained in our Farming Notes is written and updated by our experts to ensure accuracy and save you time.
A selection of Farming Notes are available to buy individually from our online shop. To gain access to all our Farming Notes become a Kingshay member.
Already a member?
Login to receive your membership discount
You may also like…
Starling Control Report

In our recent DairyCo funded study, starlings have been foun...

Members: FREE

Non-members: FREE