The Kingshay Shop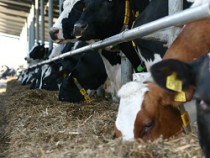 The Impact of Heat Stress on UK Milk Production and Greenhouse Gas (GHG) Emissions from the Dairy Industry
research insight June 2018 – The Impact of Heat Stress on UK Milk Production and Greenhouse Gas (GHG) Emissions from the Dairy Industry
This is the second issue of our new publication, research insight. The aim of the publication is to translate relevant scientific research into useful information for your farm. This issue looks at:
The Impact of Heat Stress on UK Milk Production - Fodor et al. Spatially explicit estimation of heat stressrelated impacts of climate change on the milk production of dairy cows in the United Kingdom. PLoS ONE 13(5):e0197076 https://doi.org/10.1371/journal.pone.0197076
Greenhouse Gas (GHG) Emissions:
Cameron et al. A comparison of milk yields and methane production from three contrasting high‐yielding dairy cattle feeding regimes: Cut‐and‐carry, partial grazing and total mixed ration. Grass and Forage Science 2018; 1-9. https://doi.org/10.1111/gfs.12353
Styles et al. Climate mitigation by dairy intensification depends on intensive use of spared grassland. Global Change Biology 2018; 24:681-693
https://doi/epdf/10.1111/gcb.13868
Issued May 2018.
About Kingshay insight publications
insight publications replace the Farming Notes which have been produced by Kingshay since 1991, publishing on issues critical to the success of a modern dairy farm business. These briefings which now include dairy insight, business insight and research insight, provide dairy farmers, large animal vets, farm consultants and other interested parties with the most important and timely information in a concise two-page format. The information contained in our insight publications is written and updated by our experts to ensure accuracy and save you time.
A selection of insight publications and Farming Notes are available to buy individually from our online shop. To gain access to all our publications become a Kingshay member.
Already a member?
Login to receive your membership discount