The Kingshay Shop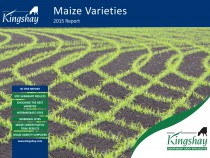 Kingshay's Maize Variety Report 2015
Kingshay's Maize Variety Report 2015 helps you choose the right maize variety for your soil and harvest date. With over ten year's worth of data and over multiple sites each year, Kingshay puts varieties to the test in different conditions.
This year's report includes results on a trial of maize under plastic, investigating whether the technique is worth the cost.
Published December 2014
Already a member?
Login to receive your membership discount