The Kingshay Shop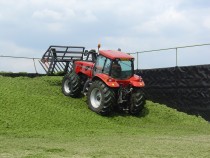 Labour & Machinery Costs
Continued pressure on dairy incomes forces many businesses to look harder at their cost of production. Labour together with power and machinery costs, account for 36% of the total cost of producing a litre of milk (Kingshay Profit Manager). Armed with cost of production information, farm businesses are able to benchmark costs against similar enterprises, potentially allowing for more hard-hitting cost management.
Issued Oct 2017.
About Kingshay Farming Notes
Since 1991 Kingshay has been publishing Farming Notes on issues critical to the success of a modern dairy farm business. These briefings provide dairy farmers, large animal vets, farm consultants and other interested parties with the most important and timely information in a concise two-page format. The information contained in our Farming Notes is written and updated by our experts to ensure accuracy and save you time.
A selection of Farming Notes are available to buy individually from our online shop. To gain access to all our Farming Notes become a Kingshay member.
Already a member?
Login to receive your membership discount