The Kingshay Shop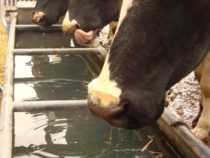 Livestock Drinking Water – Minerals
It is important to test water quality for any high or low mineral levels which may cause problems with your livestock.
Water can provide both essential and antagonistic constituents. Untreated water i.e. boreholes and water harvested from roofs should be assessed for mineral (as well as microbiological) composition when formulating rations or investigating metabolic disorders.
Dairy cows will drink up to 160 litres of water a day. The mineral composition of that water will therefore impact the daily mineral intake of the animal and should be taken into consideration when looking at mineral balance of the overall diet.
LDW analysis – minerals: Testing minerals in livestock drinking water includes pH, conductivity, total dissolved solids, alkalinity, acidity, total hardness, nitrate, nitrite, ammonia, calcium, chloride, magnesium, phosphorus, potassium, sodium, sulphate-S, aluminium, copper, iron, manganese, and zinc.
Please note: lead can be added at an additional charge.
(Prices quoted are excluding VAT. VAT will be added at the current rate once in the trolley).
Already a member?
Login to receive your membership discount