The Kingshay Shop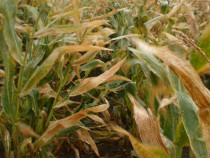 Maize Eyespot
The amount of maize grown in the UK has increased significantly over the last decade, due to both the three-crop rule and an increasing use of maize in anaerobic digesters. As this area expands, the disease risk increases as pathogens become more prevalent, evolving and adapting to UK conditions.
There are 5 main diseases: Fusarium, Northern Corn Leaf Blight, Common Rust, Smut and Eyespot. These diseases can potentially impact maize silage yields and quality of feed. Early detection and treatment are therefore essential.
Issued June 2019.
About Kingshay insight publications
insight publications replace the Farming Notes which have been produced by Kingshay since 1991, publishing on issues critical to the success of a modern dairy farm business. These briefings which now include dairy insight, business insight and research insight, provide dairy farmers, large animal vets, farm consultants and other interested parties with the most important and timely information in a concise two-page format. The information contained in our insight publications is written and updated by our experts to ensure accuracy and save you time.
A selection of insight publications and Farming Notes are available to buy individually from our online shop. To gain access to all our publications become a Kingshay member.
Already a member?
Login to receive your membership discount
You may also like…
Making Best Maize Silage

At maize harvest, although weather windows dictate play to a

Members: FREE

Non-members: £15.00

Maize Harvest

Harvesting maize at the correct time is crucial to get that ...

Members: FREE

Non-members: £15.00

Maize Drilling and Fertilisers

Maize is an excellent feed providing a good source of starch...

Members: FREE

Non-members: £15.00