The Kingshay Shop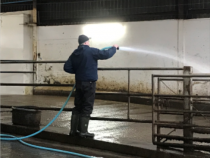 Motivating and Rewarding Staff
Labour is often one of the biggest sources of complaint on dairy farms. However, having a motivated team that works hard to achieve high levels of business performance ultimately comes down to making them feel valued and empowered. That means listening to their individual motivators, investing in their skills and creating a positive working environment. Do that, and people will work hard and stay working for you. It will also set you apart as a good employer and attract the right people in the future.
This dairy insight looks at the opportunities to empower and motivate staff on your farm and explores different ways to reward good performance.
Issued September 2020
About Kingshay insight publications
insight publications replace the Farming Notes which have been produced by Kingshay since 1991, publishing on issues critical to the success of a modern dairy farm business. These briefings which now include dairy insight, business insight and research insight, provide dairy farmers, large animal vets, farm consultants and other interested parties with the most important and timely information in a concise two-page format. The information contained in our insight publications is written and updated by our experts to ensure accuracy and save you time.
A selection of insight publications and Farming Notes are available to buy individually from our online shop. To gain access to all our publications become a Kingshay member.
Already a member?
Login to receive your membership discount