The Kingshay Shop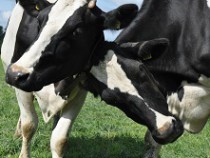 Oestrus Detection Farming Note
An average UK dairy herd with 100 cows loses over £18,000 per year or 3.14ppl due to infertility. It is often difficult on busy farms to take the time to spot cows on heat. With such financial costs associated with incorrect or late recognition of oestrus cows, it is vital to use reliable and effective methods of heat detection.
This Farming Note covers:
Why is heat detection a problem?
Heat detection and record keeping
Visual signs of heat
A guide to heat detection aids and fertility management systems
Issued September 2007.
About Kingshay Farming Notes
Since 1991 Kingshay has been publishing Farming Notes on issues critical to the success of a modern dairy farm business. These briefings provide dairy farmers, large animal vets, farm consultants and other interested parties with the most important and timely information in a concise two-page format. The information contained in our Farming Notes is written and updated by our experts to ensure accuracy and save you time.
A selection of Farming Notes are available to buy individually from our online shop. To gain access to all our Farming Notes become a Kingshay member.
Already a member?
Login to receive your membership discount