The Kingshay Shop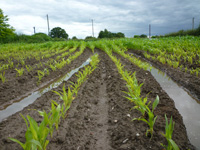 Options for a Poor Growing Maize Crop Farming Note
Where conditions are not conducive to optimum maize growth, maize yields could be substantially reduced and this may lead to winter forage shortages. Assessing the crop early and estimating predicted yields is key to planning alternative options for a poor growing maize crop.
This Farming Note covers:
Assessing the maize crop and calculating predicted yields
Compensatory growth
Options for maize substitution
How to fill the forage shortfall
Issued August 2012.
This Farming Note is only available to members
About Kingshay Farming Notes
Since 1991 Kingshay has been publishing Farming Notes on issues critical to the success of a modern dairy farm business. These briefings provide dairy farmers, large animal vets, farm consultants and other interested parties with the most important and timely information in a concise two-page format. The information contained in our Farming Notes is written and updated by our experts to ensure accuracy and save you time.
A selection of Farming Notes are available to buy individually from our online shop. To gain access to all our Farming Notes become a Kingshay member.
Already a member?
Login to receive your membership discount
You may also like…
Good Maize Silage Guide

Maize is an excellent feed providing a good source of starch...

Members: FREE

Non-members: £40.00