The Kingshay Shop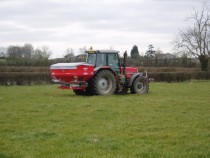 RB209 Fertiliser Update
The updated Nutrient Management Guide (RB209), should provide farmers with an easier to understand resource to better plan their use of manures and fertilisers this season.
The new guide, in essence, communicates the same information as before - providing details of the correct amount of fertilisers and muck to apply to land to maximise efficiency and protect the environment. However its layout has been changed, a number of parameters altered and some sections added. This Farming Note summaries the changes in the latest RB209.
Issued January 2018
About Kingshay Farming Notes
Since 1991 Kingshay has been publishing Farming Notes on issues critical to the success of a modern dairy farm business. These briefings provide dairy farmers, large animal vets, farm consultants and other interested parties with the most important and timely information in a concise two-page format. The information contained in our Farming Notes is written and updated by our experts to ensure accuracy and save you time.
A selection of Farming Notes are available to buy individually from our online shop. To gain access to all our Farming Notes become a Kingshay member.
Already a member?
Login to receive your membership discount