The Kingshay Shop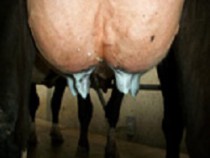 Reducing Mastitis in the Dry Period Farming Note
Each new case of mastitis costs around £276. Many of these cases appear in early lactation, with up to 50% attributed to management in the dry period. Subclinical mastitis can also be a major cause of decreased milk production, and around 40% of subclinical mastitis cases develop into clinical cases. The cow is at greatest risk of udder infections in the first and last two weeks of the dry period, so effective treatment and prevention are critical at this time.
This Farming Note covers:
Aiding recovery of udder tissue
Avoiding infection during the dry period
Mastitis vaccine
Eradicating the old infection
Teat sealants
Issued July 2013.
About Kingshay Farming Notes
Since 1991 Kingshay has been publishing Farming Notes on issues critical to the success of a modern dairy farm business. These briefings provide dairy farmers, large animal vets, farm consultants and other interested parties with the most important and timely information in a concise two-page format. The information contained in our Farming Notes is written and updated by our experts to ensure accuracy and save you time.
A selection of Farming Notes are available to buy individually from our online shop. To gain access to all our Farming Notes become a Kingshay member.
Already a member?
Login to receive your membership discount