The Kingshay Shop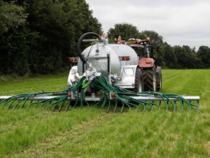 Reducing Nitrogen Losses (on-farm solutions)
This is the second in the 2-part series of publications covering Nitrogen. In this publication we look at the on-farm solutions to reduce nitrogen losses. The first publication provides an introduction to the Nitrogen Cycle and where nitrogen is lost in the system.
The agricultural industry will shortly be operating under a new regulatory framework focusing on producing clean air, water, lower carbon emissions, as well as supplying food to feed the nation. Nitrogen helps greatly to feed the nation, but its effect on air and water quality can be negative and difficult to manage. Applying too much or the wrong type of fertiliser can lead to an increase of Nitrogen losses through Ammonia (NH3) volatilization, nitrate (NO3−) leaching and nitrous oxide (N2O) emissions from soil.
Issued July 2020
About Kingshay insight publications
insight publications replace the Farming Notes which have been produced by Kingshay since 1991, publishing on issues critical to the success of a modern dairy farm business. These briefings which now include dairy insight, business insight and research insight, provide dairy farmers, large animal vets, farm consultants and other interested parties with the most important and timely information in a concise two-page format. The information contained in our insight publications is written and updated by our experts to ensure accuracy and save you time.
A selection of insight publications and Farming Notes are available to buy individually from our online shop. To gain access to all our publications become a Kingshay member.
Already a member?
Login to receive your membership discount