The Kingshay Shop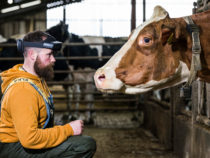 RESEARCH insight – Augmented Reality
Imagine looking at a cow and seeing a box appear over her head with all the information you need about her stage of lactation, fertility and health status. An augmented reality (AR) feasibility study is investigating whether such a tool could become a reality.
The smARtview project creates a unique collaboration between vets and computer gaming specialists who are working together in a UK first to see if it's possible to develop an AR management tool for dairy farmers.
29th August 2021
About Kingshay insight publications
insight publications replace the Farming Notes which have been produced by Kingshay since 1991, publishing on issues critical to the success of a modern dairy farm business. These briefings which now include dairy insight, business insight and research insight, provide dairy farmers, large animal vets, farm consultants and other interested parties with the most important and timely information in a concise two-page format. The information contained in our insight publications is written and updated by our experts to ensure accuracy and save you time.
A selection of insight publications and Farming Notes are available to buy individually from our online shop. To gain access to all our publications become a Kingshay member.
Already a member?
Login to receive your membership discount