The Kingshay Shop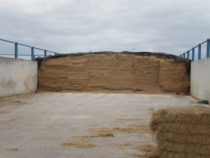 Silage Analysis
Analyse your Silage to Maximise Production
Before planning winter rations analyse your silages as nutrient quality can be variable year on year. Regular analysis throughout the silage feeding period is advised, this allows for accurate formulation of the diet.
Even when silage is clamped to the highest standards, changes occur during storage throughout the winter feeding period, whether we are looking at grass silage, maize or even wholecrop - and that is before we even consider the variations in different fields or cutting dates.

This analysis is for grass silage, maize silage and wholecrop only. For analysis of other forages please contact the office on 01458 851555.
 Tests include;
DM%, DM solubility

Energy Content – D value, ME, NDF, Sugars

Energy Content – Crude protein, Crude protein degradability, ERDP, DUP

Intake Factor Index (cow)

Fermentation Quality – pH, Ash, Ammonia, N, Potential acid loading, Lactic acid, Acetic acid, Lactic : Acetic ratio, Ethanol, Butyric acid, Total fermentable acids
2 samples included in each pack.
(Prices quoted are excluding VAT. VAT will be added at the current rate once in the trolley).
Already a member?
Login to receive your membership discount
You may also like…
Minimising Silage Losses

Wastage in silage making is inevitable – but careful manag

Members: FREE

Non-members: £15.00

Silage Corer

Analyse your silage to maximise your production We can su...

Members: £42.50

Non-members: £51.50