The Kingshay Shop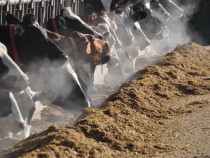 Silage Requirements Assessment
How can you be sure you have sufficient feed to see your cows through to spring turnout? And if you haven't got enough, what can you do now, to maximise stocks for the winter? There has never been a more pertinent time to calculate your current forage stocks and compare with your expected forward requirements.
The first step is to calculate likely supplies against demand. Use our online Forage Stock Calculator or the new Kingshay App calculator, to work out silage requirements and stocks as well as likely availability of standing crops. Download the Kingshay App today!
Issued October 2018.
About Kingshay insight publications
insight publications replace the Farming Notes which have been produced by Kingshay since 1991, publishing on issues critical to the success of a modern dairy farm business. These briefings which now include dairy insight, business insight and research insight, provide dairy farmers, large animal vets, farm consultants and other interested parties with the most important and timely information in a concise two-page format. The information contained in our insight publications is written and updated by our experts to ensure accuracy and save you time.
A selection of insight publications and Farming Notes are available to buy individually from our online shop. To gain access to all our publications become a Kingshay member.
Already a member?
Login to receive your membership discount