The Kingshay Shop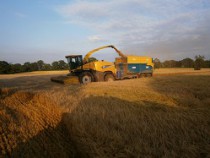 Spring Wholecrop – What are the Options? Farming Note
Barley or wheat? Undersow or not? Spring wholecrop can be a very useful alternative feed to maize and is very good as a break crop. There are a wide range of crops that can be spring sown and grown for wholecrop.
This Farming Note covers:
Why grow a spring wholecrop?
What are the wholecrop options?
What are the costs?
Should I undersow?
Issued March 2005.
This Farming Note is only available to members
About Kingshay Farming Notes
Since 1991 Kingshay has been publishing Farming Notes on issues critical to the success of a modern dairy farm business. These briefings provide dairy farmers, large animal vets, farm consultants and other interested parties with the most important and timely information in a concise two-page format. The information contained in our Farming Notes is written and updated by our experts to ensure accuracy and save you time.
 A selection of Farming Notes are available to buy individually from our online shop. To gain access to all our Farming Notes become a Kingshay member.
Already a member?
Login to receive your membership discount