The Kingshay Shop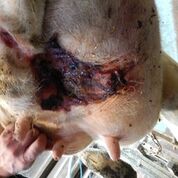 Teat Necrosis
Reports of Bovine Ischemic Teat Necrosis (ITN) - which causes cattle to excessively lick and remove their teats - are on the up.  The condition was first officially identified in UK herds in 2004, with anecdotal evidence suggesting around half of UK dairy farmers have seen at least one case in their herd. With first lactation heifers most affected, and around 80% of affected animals being culled, teat necrosis represents a significant cost to the industry.
As an emerging disease, little is known about the condition, with risk factors and the best treatment still under investigation. This insight publication looks at what is known about the disease and current treatment regimes.
Issued August 2019
About Kingshay insight publications
insight publications replace the Farming Notes which have been produced by Kingshay since 1991, publishing on issues critical to the success of a modern dairy farm business. These briefings which now include dairy insight, business insight and research insight, provide dairy farmers, large animal vets, farm consultants and other interested parties with the most important and timely information in a concise two-page format. The information contained in our insight publications is written and updated by our experts to ensure accuracy and save you time.
A selection of insight publications and Farming Notes are available to buy individually from our online shop. To gain access to all our publications become a Kingshay member.
Already a member?
Login to receive your membership discount
You may also like…
Teat Condition

Maintaining good teat condition is a crucial line of defence...

Members: FREE

Non-members: £15.00