The Kingshay Shop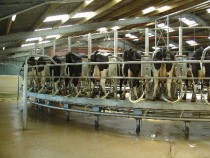 Thermoduric Bacteria
A growing number of milk processors are testing milk for thermoduric bacteria and penalising for counts above >500 cfu/ml. With high counts associated with milk quality and shelf-life issues, it is likely that thermodurics could join somatic cell counts (SCC) and bactoscans on the list of routinely monitored parameters in the not too distant future. Understanding your farm's levels and adopting good cow and milking plant cleanliness is a must to keep counts under control. This dairy insight looks at where thermoduric bacteria are found and how to prevent them getting into your milk.
About Kingshay insight publications
insight publications replace the Farming Notes which have been produced by Kingshay since 1991, publishing on issues critical to the success of a modern dairy farm business. These briefings which now include dairy insight, business insight and research insight, provide dairy farmers, large animal vets, farm consultants and other interested parties with the most important and timely information in a concise two-page format. The information contained in our insight publications is written and updated by our experts to ensure accuracy and save you time.
A selection of insight publications and Farming Notes are available to buy individually from our online shop. To gain access to all our publications become a Kingshay member.
Already a member?
Login to receive your membership discount