The Kingshay Shop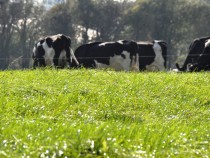 Welsh Grass Value Project Report
Kingshay have worked with the Dairy Development Centre at Gelli Aur to analyse the data and write a report on their three year project, evaluating the value of grass in Wales.
The project, which received European and Welsh government funding, focussed on best practice methods for improving grassland management and utilisation by monitoring twelve high performing grassland farms across Wales.  The findings apply equally as well across much of the rest of the UK.
Some of the key findings from the report include:
Grass production averaged 10.9 tonnes DM per hectare on the non-organic farms and 8.0t DM / ha on the organic farms.
Grass was shown to be worth £197 per tonne dry matter, £100 / t DM less than it costs to grow.
The best paddocks grew 15.2t DM / ha, costing as little as £40 / t DM.
Accurate recording of grass helps to control grazing management.
Grazing higher covers produces more grass.
Well managed, long term permanent pastures can be as productive as younger leys.
There was a clear link between the efficiency of grass production & utilisation and herd profitabiity:
Herds that grew more grass per hectare and produced more milk from forage per hectare, had a higher net margin per hectare.
An average of 31% of the output from the project herds was retained as margin. This is significantly higher than the UK average of 4% (as reported by DairyCo Milkbench in 2013).
Issued August 2014
Already a member?
Login to receive your membership discount