The Kingshay Shop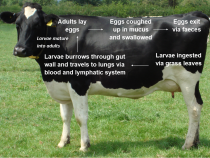 Youngstock Worms
This is one of a series of three insight publications, looking at parasitic worms in cattle. Together these publications provide a comprehensive guide for developing a good worming strategy in conjunction with your vet.
There are many species of roundworm worms (Nematodes) that can parasitise cattle, but only a few are of economic importance within the UK, these are: Ostertagia ostertagi, Cooperia oncophora and Dictyocaulus viviparous. This insight publication examines theses parasites in greater detail, to provide a better understanding of this economically important disease.
Issued February 2019
About Kingshay insight publications
insight publications replace the Farming Notes which have been produced by Kingshay since 1991, publishing on issues critical to the success of a modern dairy farm business. These briefings which now include dairy insight, business insight and research insight, provide dairy farmers, large animal vets, farm consultants and other interested parties with the most important and timely information in a concise two-page format. The information contained in our insight publications is written and updated by our experts to ensure accuracy and save you time.
A selection of insight publications and Farming Notes are available to buy individually from our online shop. To gain access to all our publications become a Kingshay member.
Already a member?
Login to receive your membership discount