The Kingshay Shop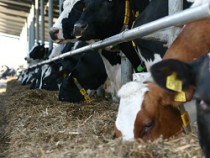 Barrier Design Farming Note
The right trough or feed barrier is a crucial element of good feeding management. A well designed feed barrier maximises intakes, reduces wastage, minimises injuries and prevents bullying. There are several types of feed barrier available on the market, each of which has its own pros and cons, however it is also possible to make simple adjustments to existing barriers, negating the need to spend lots of money on a new setup.
This Farming Note covers:
Assessing whether your feed barriers are causing issues in your herd
Building design options
The types of feed barrier available
'Feed Barriers - What's On The Market' products guide
Issued October 2010.
About Kingshay Farming Notes
Since 1991 Kingshay has been publishing Farming Notes on issues critical to the success of a modern dairy farm business. These briefings provide dairy farmers, large animal vets, farm consultants and other interested parties with the most important and timely information in a concise two-page format. The information contained in our Farming Notes is written and updated by our experts to ensure accuracy and save you time.
A selection of Farming Notes are available to buy individually from our online shop. To gain access to all our Farming Notes become a Kingshay member.
Already a member?
Login to receive your membership discount