The Kingshay Shop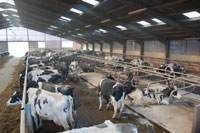 Building Design & Layout Farming Note
The building design and layout on your farm can have a massive effect on the productivity, health and well-being of your herd. Where facilities are not ideal, cow stress will increase culling rates and decrease milk yields. Many farms' housing facilities have not kept pace with larger, higher yielding cows. When you are redesigning part of or all of your set-up, following target dimensions will help avoid costly building mistakes.
This Farming Note covers:
Key building dimensions when designing a new build
Building modifications which can be made to existing set-ups
Example shed layouts
Issued June 2008.
About Kingshay Farming Notes
Since 1991 Kingshay has been publishing Farming Notes on issues critical to the success of a modern dairy farm business. These briefings provide dairy farmers, large animal vets, farm consultants and other interested parties with the most important and timely information in a concise two-page format. The information contained in our Farming Notes is written and updated by our experts to ensure accuracy and save you time.
A selection of Farming Notes are available to buy individually from our online shop. To gain access to all our Farming Notes become a Kingshay member.
Already a member?
Login to receive your membership discount
You may also like…
Ventilation Farming Note

Poor dairy building ventilation can have dramatic consequenc...

Members: FREE

Non-members: £12.50