The Kingshay Shop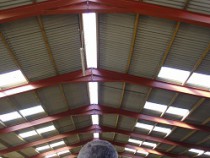 Ventilation Farming Note
Poor dairy building ventilation can have dramatic consequences on milk production. Research suggests 50% of buildings designed for livestock are not suited to the housed animal. A correctly designed dairy cow building should be cool in summer and warm in winter.
This Farming Note covers:
Seven key points to consider for livestock ventilation
Identifying signs of poor ventilation
Principles of ventilation
Dairy building design
Six methods of improving natural ventilation
Ventilation calculator
Issued August 2013.
About Kingshay Farming Notes
Since 1991 Kingshay has been publishing Farming Notes on issues critical to the success of a modern dairy farm business. These briefings provide dairy farmers, large animal vets, farm consultants and other interested parties with the most important and timely information in a concise two-page format. The information contained in our Farming Notes is written and updated by our experts to ensure accuracy and save you time.
A selection of Farming Notes are available to buy individually from our online shop. To gain access to all our Farming Notes become a Kingshay member.
Already a member?
Login to receive your membership discount
You may also like…
Cow Comfort Report

As part of Kingshay's exhibit at the 'Livestock Event' and '...

Members: FREE

Non-members: £80.00

Starling Control Report

In our recent DairyCo funded study, starlings have been foun...

Members: FREE

Non-members: FREE