The Kingshay Shop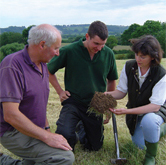 Soil Analysis – Comprehensive
When was the last time you checked your soils?
Our comprehensive soil analysis includes Physical Soil Structure - Sand:Silt:Clay, Macro Nutrients - Organic matter, Microbial activity, Sulphate, Total Phosphorus, Total Potassium, Chemical - CEC, Calcium, Magnesium Ca:Mg ratio, Potassium Sodium, Hydrogen, Others, Trace Elements - Iron, Molybdenum, Copper, Selenium, Zinc, Manganese, Cobalt, Boron, Conductivity
PLUS bespoke interpretation of results and recommendations
(Prices quoted are excluding VAT. VAT will be added at the current rate once in the trolley).
Already a member?
Login to receive your membership discount