The Kingshay Shop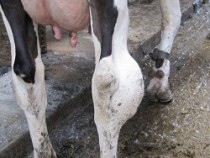 Cow Signals Farming Note
In your herd, are there a high proportion of cows with rubbed necks or briskets? Are cows tail twitching despite there being no flies?
Cow signals and behaviour can be very indicative of the suitability of a set-up and system, therefore taking the time to observe your herd can often alert you to pressure points which may be affecting herd health and productivity.
This Farming Note covers:
Herd indicators
Individual cow behaviour
Physical indicators
Issued February 2009.
About Kingshay Farming Notes
Since 1991 Kingshay has been publishing Farming Notes on issues critical to the success of a modern dairy farm business. These briefings provide dairy farmers, large animal vets, farm consultants and other interested parties with the most important and timely information in a concise two-page format. The information contained in our Farming Notes is written and updated by our experts to ensure accuracy and save you time.
A selection of Farming Notes are available to buy individually from our online shop. To gain access to all our Farming Notes become a Kingshay member.
Already a member?
Login to receive your membership discount