The Kingshay Shop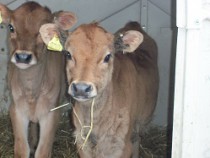 Managing Twinning Farming Note
Twinning is undesirable as the stress of carrying two foetuses compromises the cow's energy balance, and this can lead to poor performance after calving. It is crucial that the management of high risk cows is carefully monitored to prevent any negative post-calving issues occurring.
This Farming Note covers:
Problems occurring in the cow
Early identification of twin carrying dams
Management action plan
Issued November 2009.
About Kingshay Farming Notes
Since 1991 Kingshay has been publishing Farming Notes on issues critical to the success of a modern dairy farm business. These briefings provide dairy farmers, large animal vets, farm consultants and other interested parties with the most important and timely information in a concise two-page format. The information contained in our Farming Notes is written and updated by our experts to ensure accuracy and save you time.
A selection of Farming Notes are available to buy individually from our online shop. To gain access to all our Farming Notes become a Kingshay member.
Already a member?
Login to receive your membership discount
You may also like…
Twinning Farming Note

In dairy cattle twin births are undesirable and lead to redu...

Members: FREE

Non-members: £12.50

A2 Milk Farming Note

Most herds produce milk containing two types of beta casein...

Members: FREE

Non-members: £12.50