The Kingshay Shop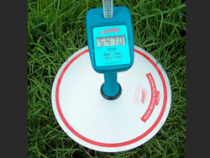 Electronic Grassland Plate Meter Jenquip EC09
An Electronic Grassland Plate Meter Jenquip EC09 can help you assess grass covers for improved grassland management.
Graze your herd with maximum efficiency and make the most of your cheapest resource!
This electronic tool automatically counts and provides average height or cover (kg DM/ha) readings. This is the standard Jenquip Plate Meter that has been redesigned to be more robust.
Includes -
Jenquip Plate Meter EC09
Electronic Counter
Pasture Manager Software
Efficient grazing is key to maximising productivity on many dairy systems. Weekly grass monitoring is essential and will allow you to determine when paddocks should be taken out for silage or brought into the grazing round early. Be proactive in grassland management, rather than reactive, will allow better use of grass and improve animal performance. See Grazed Grass (Successful Management) Farming Note - Shop – Kingshay for more information.
Also available - A Carry Case (for an additional fee) for your Grassland Plate Meter Jenquip EC09.
Please note: Price includes delivery to mainland GB.
For any other delivery destinations, please contact the team directly on 01458 851555 and we'd be happy to provide a quote.
(Prices quoted are excluding VAT. VAT will be added at the current rate once in the trolley).
Already a member?
Login to receive your membership discount