The Kingshay Shop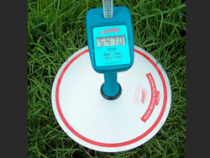 Electronic Grassland Plate Meter Jenquip EC10
This easy to use Electronic Grassland Plate Meter Jenquip EC10 is reliable and robust with new design.
Easy to carry with unique folding handle. Paddock data for up to 99 paddocks can be stored in the EC10 and downloaded via USB cable. Different pasture cover calculation formulas can be entered and selected, with the selected formula remaining in use until changed. All data and records are retained when the counter is switched off.
Includes -
A USB port - allowing direct downloading of data
Jenquip Plate Meter EC10
Electronic Counter (integrated design so less maintenance)
Comprehensive user handbook
Efficient grazing is key to maximising productivity on many dairy systems. Weekly grass monitoring is essential and will allow you to determine when paddocks should be taken out for silage or brought into the grazing round early. Be proactive in grassland management, rather than reactive, will allow better use of grass and improve animal performance. See Grazed Grass (Successful Management) Farming Note - Shop – Kingshay for more information.
Also available – A Carry Case (for an additional fee) for your Grassland Plate Meter Jenquip EC10.
The Counter can be retrospectively fitted to a Manual Plate Meter - conversion kits are available, just contact Kingshay for more details.
Also available - Grass Plate Meter Jenquip EC20 (Bluetooth), call Kingshay for a quote on 01458 851555.
Please note: Price includes delivery to mainland GB.
For any other delivery destinations, please contact the team directly on 01458 851555 and we'd be happy to provide a quote.
(Prices quoted are excluding VAT. VAT will be added at the current rate once in the trolley).
Already a member?
Login to receive your membership discount