The Kingshay Shop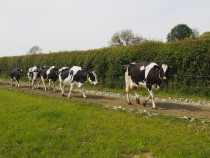 Lameness & Behaviour in Dairy Cows
Lameness is a costly disease in dairy herds with each case estimated to cost £196 - for treatment costs, labour, loss of milk production, loss of fertility and culling. It is thought average lameness levels have increased slightly to around 40 cases for every 100 cows. However, in the top 25% of dairy herds lameness levels are down at 21 cases per 100 cows saving £3,724 for every 100 cows (Dairy Costings Focus Report 2019).
This research insight explores some of the latest lameness studies and looks at how the findings can influence on-farm performance.
February 2020
About Kingshay insight publications
insight publications replace the Farming Notes which have been produced by Kingshay since 1991, publishing on issues critical to the success of a modern dairy farm business. These briefings which now include dairy insight, business insight and research insight, provide dairy farmers, large animal vets, farm consultants and other interested parties with the most important and timely information in a concise two-page format. The information contained in our insight publications is written and updated by our experts to ensure accuracy and save you time.
A selection of insight publications and Farming Notes are available to buy individually from our online shop. To gain access to all our publications become a Kingshay member
Already a member?
Login to receive your membership discount