The Kingshay Shop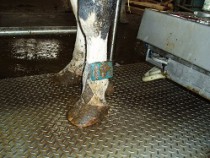 Pedometers: A Step in the Right Direction? Farming Note
It's a shocking statistic but only 50% of all heats are detected in the average herd. Increasing this by 10% would save over £7,000 per year for a typical 150 cow herd. Some cows display signs of heat for only a few hours, so even with regular observation these cows may be missed. One option for improving heat detection is the use of pedometers (activity meters).
This Farming Note covers:
Types of pedometer
Winter and summer use
Interpreting activity records
Are pedometers worth the money
Who should consider pedometers?
Issued October 2005.
This Farming Note is only available to members
About Kingshay Farming Notes
Since 1991 Kingshay has been publishing Farming Notes on issues critical to the success of a modern dairy farm business. These briefings provide dairy farmers, large animal vets, farm consultants and other interested parties with the most important and timely information in a concise two-page format. The information contained in our Farming Notes is written and updated by our experts to ensure accuracy and save you time.
A selection of Farming Notes are available to buy individually from our online shop. To gain access to all our Farming Notes become a Kingshay member.
Already a member?
Login to receive your membership discount