The Kingshay Shop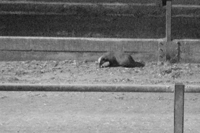 Reducing BTB Transmission on Farm Farming Note
The spread of bovine TB on farm can potentially be reduced by adopting certain management practices. Although none of these will completely remove the risk and some may not be practical on your farm, they are worth considering.
This Farming Note covers:
Badger-cattle contact
The persistence of bTB
Results of a study carried out by FERA and The University of Exeter
Management methods to reduce transmission
Issued March 2013.
About Kingshay Farming Notes
Since 1991 Kingshay has been publishing Farming Notes on issues critical to the success of a modern dairy farm business. These briefings provide dairy farmers, large animal vets, farm consultants and other interested parties with the most important and timely information in a concise two-page format. The information contained in our Farming Notes is written and updated by our experts to ensure accuracy and save you time.
A selection of Farming Notes are available to buy individually from our online shop. To gain access to all our Farming Notes become a Kingshay member.
Already a member?
Login to receive your membership discount
You may also like…
Starling Control Report

In our recent DairyCo funded study, starlings have been foun...

Members: FREE

Non-members: FREE