The Kingshay Shop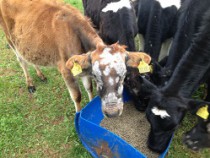 Ringworm Farming Note
Ringworm is a fungal zoonotic skin disease, which affects skin, hair and nails. It is highly contagious, with cattle being the most susceptible farm animal. Whilst not a serious illness, ringworm is indicative of a weak immune status and its presence should prompt you to look at the nutrition status of your youngstock.
This Farming Note covers:
What is ringworm?
Spread of the disease
Preventing ringworm infection
Treating ringworm
Issued September 2010.
About Kingshay Farming Notes
Since 1991 Kingshay has been publishing Farming Notes on issues critical to the success of a modern dairy farm business. These briefings provide dairy farmers, large animal vets, farm consultants and other interested parties with the most important and timely information in a concise two-page format. The information contained in our Farming Notes is written and updated by our experts to ensure accuracy and save you time.
A selection of Farming Notes are available to buy individually from our online shop. To gain access to all our Farming Notes become a Kingshay member.
Already a member?
Login to receive your membership discount
You may also like…
Starling Control Report

In our recent DairyCo funded study, starlings have been foun...

Members: FREE

Non-members: FREE